It is guaranteed to buy polyurethane stamps, molds for decorative stone and tiles, molds for 3D panels, molds for the facade with a foam base.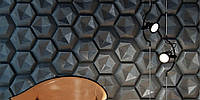 07.10.17
Hello, my name is Pavel Bobrov and I represent the company "Bobrov", which specializes in the production and sale of polyurethane stamps for horizontal and vertical printing and forms of abs plastic for the production of gypsum panels, decorative stone and tiles as well as facade tiles with foam plastic basis. We are based in Ukraine, we trade mainly in this country, but we have clients from countries such as Turkey, USA, Italy, Germany, France. Mostly we were found through Russian-language videos in YouTube. I wrote this video in order to acquaint foreign entrepreneurs who are engaged in production or sales in the field of decoration and construction, as well as ordinary people who want to decorate their premises, yard, sidewalks, bring a desired atmosphere to our homes or offices with our services , which, as we and our clients from many CIS countries believe, are the best in the sphere of decor in our country.
Since we have just begun our development, we will distribute our services with the help of Youtube, all news for foreign population will be published first on this channel. Therefore, I recommend that you subscribe and receive news in a timely manner.
So, what can we offer you? Let's consider in more detail:
1. ABS plastic molds for production:
-3D panels (32 types);
-Decorative stone and tiles (14 species);
-Facade boards with foam base (7 types);
2. Polyurethane stamps (21 types):
-For horizontal printing (floor, path, sidewalk, etc.);
-For vertical printing (walls, etc.).
We have experience of cooperation with representatives of different countries and give a guarantee on the quality, efficiency and clarity of the transaction.
Let's talk now about payment and delivery:
We pay for the delivery of goods to your locality, so we ask to make a bank transfer (full prepayment for goods and delivery) to our name and after receiving the money we will send you an order.
Delivery takes place by Air (10-14 days).
If you are interested in buying or just want to ask questions, you can give recommendations or something to note - all of our contacts are in the description under the video, welcome. I wish you productivity in all your endeavors, coziness in the house and a good mood. See you soon.